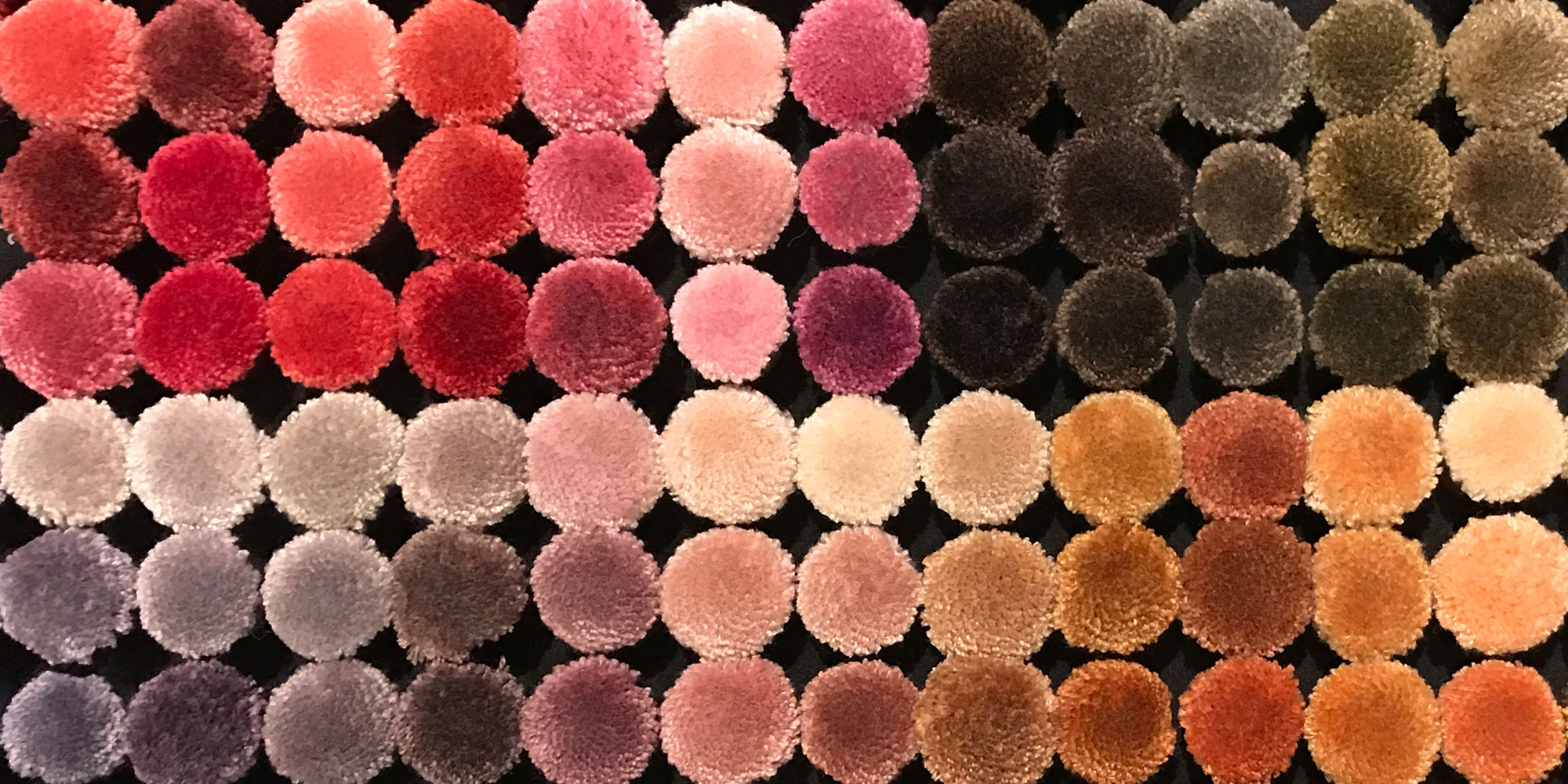 Frequently Asked Questions
Ordering Questions
Can I customise a rug or design my own?

Yes, you can customise the colour and size of most of our rugs with our online rug design tool.

If you have your own design that you'd like to bring to life, contact us and we'll guide you through the process.

Are the colours I see on my screen accurate?

We have made sure they are as accurate as possible but it comes down to, in part, your monitor and device screen so this is not guaranteed.

How long does my order take to process?

It takes one business day to process your order and you will receive an email confirmation.

Why does it take longer to make a runner?

A runner takes longer than other larger rugs because only one artisan can work on it at a time.

What if my rug is delayed in customs?

Unfortunately this is out of our control but we endeavour to be transparent and will keep you up to date via phone or email with the delivery process of your rug.

Can I track my rugs online?

Yes, please contact us to request your tracking details.

What happens if the rug is already damaged when I receive it?

Please contact us immediately upon delivery with a photo of the damage and we'll arrange to have it either fixed or replaced.

---

Product Questions

Do you use forced or child labour?

No, The Rug Establishment is part of the CARE & FAIR initiative against illegal child labour and for the support of people working in the carpet production industries in India, Nepal and Pakistan.

Our contribution funds are used for school and training projects as well as for measures of basic medical care in the rural knotting regions often neglected by local governments.

Read more

Do hand-tufted rugs shed?

Both synthetic and wool hand-tufted rugs experience some shedding or pilling. Shedding or pilling are excess fibres that don't affect the quality of the rug and is not a manufacturer's defect.

Is my rug made from Sustainable Materials?

A hand crafted rug made with natural materials is inherently made with sustainable fibres, be it wool, linen, cotton, silk, viscose, banana fibre. Some rugs are also up-cycled from remnant sari silk from sari dress production. We do make some rugs to order from man made materials such as acrylic or PP - but very rarely.

What is Art Silk?

Art Silk is a broad term that is not used very clearly and not always correctly. It is essentially a marketing term that can include many 'shiny' fibres. Examples include Rayon and Viscose. Negative references can be found online - mainly from poorly trained cleaning technicians who are not aware of the correct cleaning processes. You should talk to your design consultant about any concerns you may have if you don't have access to a quality cleaning solution. Art silk can be made from any cellulose fibre - from Bamboo (rayon) to Banana to most wood pulp.

The Rug Establishment has worked for many years with great success with specialist art silk suppliers and have very few problems, however we do our best to explain the realities of purchasing the positives and negatives of each fibre.

What is Wild Silk?

Wild silk or "Muga silk" is the product of the silkworm Antheraea assamensis endemic to Assam. This silk can be hand-washed with its lustre increasing after every wash. Very often the silk outlives its owner. The Wild silk has some natural colour blemish which makes it great for gentle variation within each colour.

What is Chinese Silk or Pure Oriental Silk?

We use this when the design seeks purer colours - as the source filament is very white and perfect to begin with. Chinese manufacturers produce almost 3/4 of the world's silk.

What is Bamboo Silk (mill spun & hand spun) or Bamboo Viscose?

Bamboo is one of the fastest growing, most sustainable fibres available. It is another version of Art Silk

What is Botanical Silk?

Botanical silk is sourced from Eucalyptus pulp and belongs to the Art Silk family.

How do I clean Art Silk?

An art silk or viscose rug is easy to care for. General care includes simply sweeping it with a carpet sweeper or vacuuming it with the brushless suction head to prevent any fibres from breaking.

What if I spill liquids on Art Silk?

Liquid is the natural enemy of Art Silk - the massive price difference in real versus art silk has a trade off.

Sometimes after the rug has been cleaned or even suffered a simple water spill, a brownish discolouration appears. A condition called cellulosic browning is one of the causes of this discolouration. Several factors must be present in order for this discolouration to develop including a cellulosic fibre, moisture, and slow drying. Furthermore, a high pH or shampoo residue may also contribute to its occurrence.

If browning does develop after cleaning, the discolouration is not always a permanent stain and can often be removed by professional carpet cleaners. However, in other cases, the discolouration cannot be completely removed. This issue arises more often with wool, sisal or cotton carpets, or when the carpet is old enough for advanced cellulosic fibre degradation to occur.

Treat liquid spills with speed and make sure the fibres can dry easily, combing the fibres frequently to ensure that no wicking (clumping at the surface) occurs.

How do I clean hand-knotted rugs?

Again, hand-knotted rugs should be vacuumed regularly without the beater brush. If your rug is small enough, shake out the ground-in dirt first. Don't forget to turn the rug over and vacuum the back to catch any other loose dirt.

How do I clean hand-tufted rugs?

Vacuuming is the easiest way to clean hand-tufted rugs to remove loose dirt and dust. For cut pile, an upright, beater-type vacuum is recommended but don't set the beater bar too low. For loop pile, a suction-type vacuum is recommended.

How can I further protect my rug?

Some rugs may benefit from a fibre protection application that helps minimise absorbency and protects your rug from stains, mould and sun fade. Contact your nearest showroom for more information.

---

Rug Glossary

Abrash - A change or variation in the colour of a rug due to differences in the wool or dye bath. In older or antique rugs, abrash occurs naturally. In new rugs, both machine-made and handmade, abrash is carefully created to mimic a vintage look.

Acrylic - A man-made fibre.

Art Silk - Artificial silk yarn used for weaving that is made from cotton, rayon or polyester that resembles silk.

Arabesque - Intricate patterns of intertwining flowers and vines.

Asymmetrical Knot - A type of Oriental pile rug knot where only one of the two warps are entirely encircled. (See also Persian Knot.)

Aubusson/Tapestry Weave - A hand-woven method originating in France in which the "stitches" on the face look more linear, and the back may look "stringy". This occurs when the weaver changes yam colours.

Axminster Loom - A type of loom used for machine-made rugs that offers great flexibility (enabling up to 70 colours) in both colours and design.

Axminster Rug - Rugs manufactured by a particular style of loom and weaving that originated in the town of Axminster, England during the industrial revolution. The Axminster loom offers great flexibility of colour, enabling use of up to 70 colours, and design. These machine-made rugs are woven onto a flexible cotton frame, the pile is then cut level to one height and the pile tufts are anchored by strong wefts. Axminster rugs combine many colours in geometric or floral patterns.

Backing - The fabric that makes up the backside of the carpet.

Background Colour - The colour that appears to be "behind" the designs and borders of the rug. The background colour is usually the dominant colour of the rug.

Bamboo Rugs - Bamboo rugs or mats are woven from natural bamboo fibres. Bamboo is cut into strands for woven designs and into wide strips for a hardwood floor effect.

BCF Bulk Continuous Filament - Bulked continuous filament yarns are synthetic yarns processed by a mechanical means to fluff them out before tufting or weaving.

Berber - Term popularly used to refer to a natural coloured look of carpeting. This style has been developed commercially by carpet manufacturers. Berber is more accurately or traditionally defined as a group of North African tribespeople who crafted rugs of handspun yarn from the undyed wool of local sheep.

Binding - Band or strip sewn over a carpet edge to protect, strengthen or decorate it.

Blend - Carpets composed of more than one kind of fibre.

Border Rug - A rug with one or more outside borders of one carpet style and an inside area of another carpet type.

Boucle - Heavy looped pile.

Boteh - The original version of paisley, this motif is thought to represent the forms of pine cones, cypress trees or the flame of Zoroaster. Boteh is a very popular motif in many types of traditional Oriental rugs.

Burn Test - The material content of a rug can be tested by burning a small tuft of the fibre. Cotton has a vegetable smell when burned, while wool and silk will smell like burning hair.

Carding - Process of arranging and smoothing wool fibres by pulling them between two spiked paddles.

Chenille - Fabric with a deep luxurious pile that i s often used in rugs.

Chrome dyes - Colourfast dyes that use potassium bichromate to bond the yarn to the dye.

Combing - Process that organises carded wool fibres in a parallel arrangement by pulling them through spiked blocks or combs. This process prepares wool for spinning.

Contemporary - Modern designs that can be "soft" or "hard" depending on patterns and colours.

Cotton - Cotton is a natural fibre of great durability and strength. The soft and fluffy fibres are formed within a cotton boll or seedpod. Each fibre is made up of twenty to thirty layers of cellulose coiled in a neat series of natural springs. When the cotton coll (seed case) is opened, the fibres dry into flat, twisted, ribbon-like shapes and become kinked together. This interlocked form fibre is ideal for spinning and is often used in rugs for backing, fringes and sometimes mercerised cotton is used for pile.

Cross-woven - Cross-woven rugs are made on the Wilton loom. This technique incorporates fringes into the rug rather than requiring them to be sewn on afterwards. Cross-weaving is done from side to side, rather than top to bottom, which allows the use of more colours in addition to delicate details and an elegant abrash look.

Cut Pile - Cut-pile is a smooth finish created by cutting off the tops of the wool loops. The cut loops are then twisted to make tufts of yarn that stand erect, creating a soft even surface. Also known as 'velour' or 'velvet' pile.

Denier - Measurement of linear density (mass in grams of 9000 meters of the measured yarn or fibre). Large fibres or yarns have high deniers, thin yarns have low deniers.

Density - Refers to the amount of pile yarn in the carpet and the closeness of the tufts. The more densely or tightly packed the yarn is, the more luxurious the pile will feel and the better the rug will wear.

Duracord - Duracord fabric is constructed of man-made industrial yarn that has undergone improvements in the aesthetics and hand, has been augmented with ultraviolet inhibitors and further anti-microbial enhancements to prevent degradation from outdoor exposure. But it is virtually indistinguishable from cotton. Perfect answer for customers requiring cotton-like softness, with durability when left outdoors for long periods.

Dhurries - Flat weave rugs, usually with floral designs, made in India for wool or cotton - originally for use on summer-house floors.

Embossed - Carved pile around a design or motif that augments the look of the pattern.

Hand-hooked/hand-tufted - Usually refers to rugs made by craftsmen who insert yarn into a backing according to a pattern with a handheld tool. The pile of a hand-hooked rug is made up of loops. A hand-tufted rug has a cut pile surface.

Hand-knotted - Woven by hand. A weaver actually knots the yarns by hand that make up the pile around the warp yarns that run the length of the rug.

Handmade - Constructed by hand. Does not necessarily mean hand-knotted.

Field - Designates the central part of a rug design that is surrounded by a border.

Flatwoven - Woven rugs that have no pile. Dhurries from India are usually made of cotton or wool. Kilims are generally finer, tapestry-like flat-weaves.

Flokati - Traditional Greek rugs, hand-woven from sheep's wool. These shaggy rugs are decadent and fluffy for feet, and their natural colours are pleasing to the eye as well. Flokati rugs come in different weights from 1400 grams to 4000 grams. They are measured by their weight in grams of wool per square meter. As the weight increases, so does thickness and fluffiness. A 4000 gram/sqm rug will be noticeably thicker than the 1400 gram/sqm rug. The higher the gram count, the more plush and more expensive the rug will be. Approximate Pile Height:

1400 grams/sqm is roughly 1.5 inches (New Flokati)
2000 grams/sqm is roughly 2 inches (Flokati 3A Heavy)
3000 grams/sqm is roughly 3 inches (Flokati 4A Super Heavy)
4000 grams/sqm is roughly 4 inches (Flokati 5A Extraordinary)

Frames - The part of the loom that holds the spools of yarn. Every frame in a loom holds a different colour of yarn. An eight-frame loom weaves an eight colour rug.

Frieze - Heavily twisted yarn provides a coarse texture of cut pile. (See also Hard Twist.)

Fringe - Warp threads that extend beyond the end of the rug.

Jute Rugs - Rugs woven of natural plant fibres that were originally used as doormats. Jute is grown in areas of southern Asia. The fibres are then stripped from their stalks and can be spun into yarn or rope and woven. Jute rugs are woven with loop or flat construction, and have become popular for use throughout the home. Jute yarns are strong and often used as warps in knotted rugs.

Kilims - Flat weave rugs in geometric designs and strong colours made in the Near East.

Knot Count - The number of knots in a square inch of rug. Handmade Chinese rugs are often described in terms of "line". For example, a 65-line rug would have 65 knots per foot of width, 65 knots per foot of length, and 29 knots per square inch.

Knotted Quality - The amount of knots in 9/10 of an inch of a rug's width and the amount of knots in 41/2 inches of the rug's length, multiplied together and divided by 4. A practical method? Turn the rug over to see if it looks finely crafted or sloppy, regardless of knot count.

Latex - emulsion of synthetic rubber or plastics that are used as an adhesive in the making of rugs.

Line Count - Number of horizontal knots in a foot of rug. The greater the number of knots, the higher the quality of the rug.

Loom - Structure that holds warp strands taut for weaving and knotting. Looms can be vertical, horizontal, fixed or mobile.

Loop pile - this is a hard-wearing surface designed to minimise tracking. Loop pile is the same as cut pile before it is trimmed.

Machine-made - Constructed on an electrically powered machine, now usually computer controlled.

Multi-Level Loop Pile - Varied heights of yarn loops that create a three dimensional effect.

Nap - Surface or pile of a rug.

Natural Rug - Rugs made of natural fibres that are usually ivory or neutral coloured. Texture is the main feature of these rugs.

Natural Dyes - Dyes used for colouring weaving yarns that can be either plant dyes, animal dyes, or mineral dyes.

Navajo Rugs - Flat weave rugs in geometric patterns woven by Navajo Indians in the American Southwest.

Needlepoint - Rugs that are generally made with wool yarns worked on a canvas grid, using the same method as stitching a needlepoint pillow.

Nylon - Nylon is a durable synthetic fibre which also has good dyeing characteristics. Nylon yarns can can be solution dyed, skin dyed and/or space dyed.

Pile - Surface of the rug formed by cut ends of the knots.

Pile Height - Height of the pile, measured by tenths of an inch from the top surface of the rug backing to the top of the pile's surface.

Pile Weight - Weight of pile yarn per square yard of the rug.

Plush - Cut pile rug in which the tuft ends blend together.

Ply - Number of yarns spun together to form a tuft of pile. Measurement of the yarn's thickness.

Point - One tuft of pile.

Polyester - Synthetic fibre most often used in staple spun yarns.

Polypropylene - Polypropylene or Olefin fibres are petroleum-based synthetic materials derived from propylene and ethylene gases. The fibre is characterised by its resistance to moisture. It is often heat-set to guarantee vibrant colour, long lasting beauty and easy maintenance. It is quick drying and mildew, soil and stain resistant. Its fibres have the lowest density of all manufactured fibres giving olefin textiles a very lightweight quality.

Primary Backing - Backing in a tufted carpet into which the tufts are inserted. The backing is then bonded with latex on its back side to hold the tufts in place.

Rug Pad - A rug pad helps to keep your rug in place, but it also helps to prolong the life of a rug by cushioning it from the floor by absorbing the weight of traffic.

Rug Shuffle - the curious rippling phenomena that occurs when rugs are placed on the top of carpet. The effect is increased when heavy furniture items are added to the load.

Runner - Long, narrow rug used primarily for hallways and stairways.

Secondary Backing - In tufted carpet, an additional backing is bonded onto the primary backing with latex.

Semi-Worsted - Combing process that removes shorter fibres, resulting in a more lustrous looking yarn.

Setting - For good tuft definition, yarns are twisted and then 'set' with heat to hold the twist's shape.

Shag Rug - Contemporary rug style with long, typically synthetic, pile.

Shedding - New rugs sometimes lose loose fibres, but it is not harmful to the carpet.

Sheen - The luster of a carpet that usually comes from having a special chemical wash.

Silk - An expensive fibre that comes from the cocoon of silkworms.

Sisal - Plant of the genus Agave that yields a fibre often used for making natural rope. The name sisal is used for both the plant and for the fibre. Sometimes referred to as hemp, sisal is not actually hemp but a fibre that resembles it. Sisal rugs are natural rugs, woven from sisal fibres. (See also Wool Sisal.)

Synthetic fibres - Synthetic fibres are used exclusively in machine-made rugs. These fibres are non-porous, meaning that they are inherently stain proof. They resist staining from almost any chemical. They are very durable, yet they feel soft and are incredibly easy to maintain.

Tapestry - In rug terminology tapestry refers to a weft face weave with complicated designs.

Tea Wash - Process used to antique the colours of the rug.

Textured Loop Pile - With loops of differing pile height, textured loop has a unique sculptured look. Like level loop pile, this hard wearing texture minimises tracking.

Tibetan Knot - Distinctive knotting technique that originated in Tibet and has now spread to other regions. A rod is placed in front of the warp. A single strand of yarn is then wrapped around two warps and then around the rod. When the row is finished, the rod is removed and the resulting loops are cut, creating the pile.

Tip Shear - Cut pile rugs where some of the loops of yarn are left uncut. This finishing style is desirable since it minimises tracking and flattening effects.

Tone-on-Tone - Two or more tones of the same colour in a rug. This look is achieved either by mixing yarns of different tones or by using the same colour of yarn in a rug with both cut and looped pile.

Traditional - A styling designation that usually refers to either traditional Oriental/Persian patterns or traditional European patterns.

Transitional - A more casual style that falls between traditional and contemporary.

Tribal Rug - Style of rug woven by North American or Middle Eastern tribal peoples, or woven in the traditional styles or patterns of these groups.

Tufted Rug - Technique of punching tufts of wool through the base fabric. Used to create inexpensive versions of hand-knotted rugs. (See also Hand-Tufted.)

Tufting Machines - A technology invented in the United States in which yarn ends are placed into a backing. Most wall-to-wall carpet in the United States is tufted goods. Some rugs are also machine-tufted.

Twist - Winding of the yarn around itself to create a neat, well-defined strand. A yarn twist that is tighter provides added durability.

Vegetable dyes - Dyes made of natural plant materials, like bark. These dyes contain no synthetic chemicals and tend to fade more rapidly than some synthetic alternatives, like chrome dyes.

Warp - Vertical strands of weave that extend through the entire length of the rug. The warps are the yarns onto which the knots are tied and the wefts are woven.

Washing - Chemical treatment of wool rugs that tones down the colours and gives the rug a soft texture. Sometimes imitates the effects of aging. Some purists believe that rugs should be allowed to age without the wash.

Weft - Strands of yarn that run across the width of the rug between warp threads. The weft threads hold the pile knots in place.

William Morris - An English design firm that was named for its establisher. The firm specialised in creating hybrid rugs of middle eastern designs combined with western tastes. Most beautiful designs could be found in institutional locations, such as grand hotels and government buildings.

Wilton Rug - Machine-loomed carpets with limited colour palettes. Modern Wilton rugs were the first type to be made on a computerised machine. Wilton cross-weaving offers great flexibility in colour placement and design.

Wool fibre - acquired from the hair of sheep, goats and a selection of other domesticated animals, including alpacas.

Wilton Side Woven - The Wilton side woven area rugs are woven in a fashion, but at a 90 degree angle to the above area occasion. Cotton backing is to give these area rugs a softer feel.

Wool Sisal - Wool sisal-look rugs are popular alternatives to real sisal (coir and seagrass).

Worsted Wool - An extra step in wool processing that combs out shorter fibres resulting in durable and lustrous yarns.

Woven Carpets - Carpet made on a weaving loom where backing threads and pile are woven at the same time, creating strong anchors for the tufts. Axminster and Wilton are both well known woven carpets, offering a wider range of patterns.

Yarn - Cord of twisted fibres.