Handmade rugs are crafted to be tactile works of art. They denote congenial spaces, create warmth, and exude luxury. Customising for unusual spaces with specific needs can have a dramatic effect on the mood and use of the home. The Rug Establishment are industry leaders in creating custom and bespoke rugs for both luxury residential and commercial environments such as here, at Dicky Beach House.
Dicky Beach House on the Sunshine Coast is a house designed by Charles Wright Architects and built by Nick Hayes Construction. They developed a highly sophisticated, engineered structure that could protect and preserve the site from erosion, storm tides, and future projected cyclonic activity - whilst operating in a passive and sustainable way. It is a futuristic monolith of concrete and angles, yet was to be used as an inter-generational resort-style beach house.
Studio del Castillo was commissioned to conjure the interiors and The Rug Establishment worked with Penny to produce all of the rug requirements.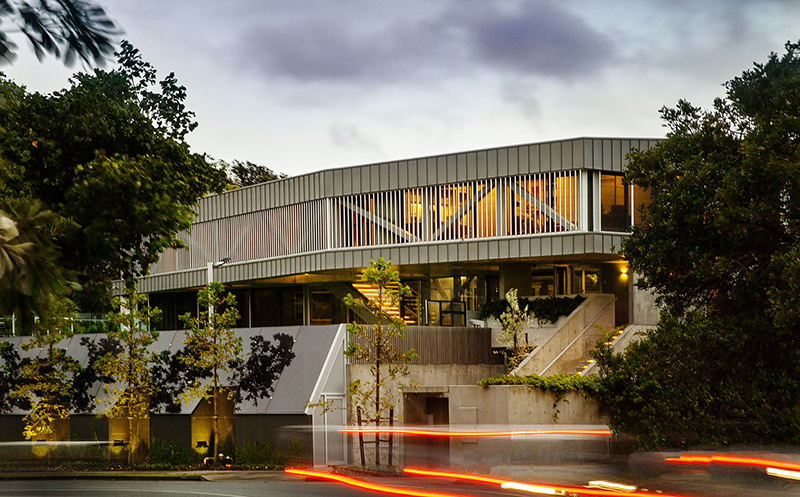 Some of the client's key needs were:
- Function before form - but certainly nice to have both!
- No or very low maintenance
- The ability to create multiple zones that can transform into one large open space for entertaining - picture a 120 pax sit-down wedding dinner!
- Materials used should be able to withstand salt and last for 100 years plus with low maintenance and be easy to clean.

The Main Living space is open plan and consisted of both sit-down lounge areas as well as a long dining setting. With no perpendicular walls in site, designing irregular shapes to denote the lounge areas was crucial. Eminent Gilded, a design reminiscent of aerial topographic imagery, was custom coloured to match the lounges seamlessly and created in a 10/10 hand-knotted Persian quality. 100% NZ Wool was used for hardiness and ease of maintenance, and for the luxurious shiny highlights, real silk was used to ensure ease of maintenance and longevity with the humid and salty air (viscose would have discoloured very quickly in this environment).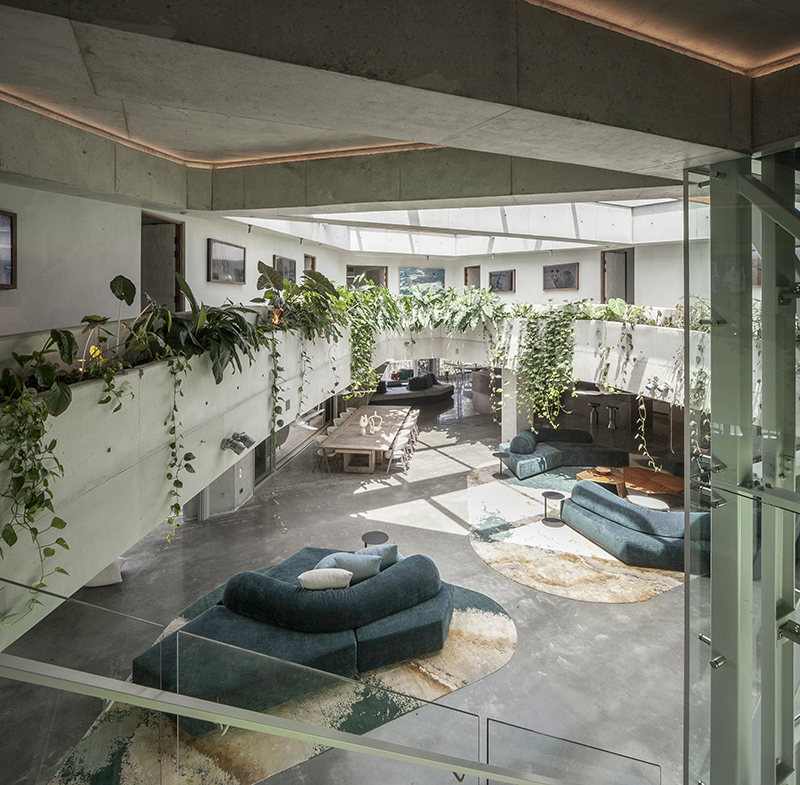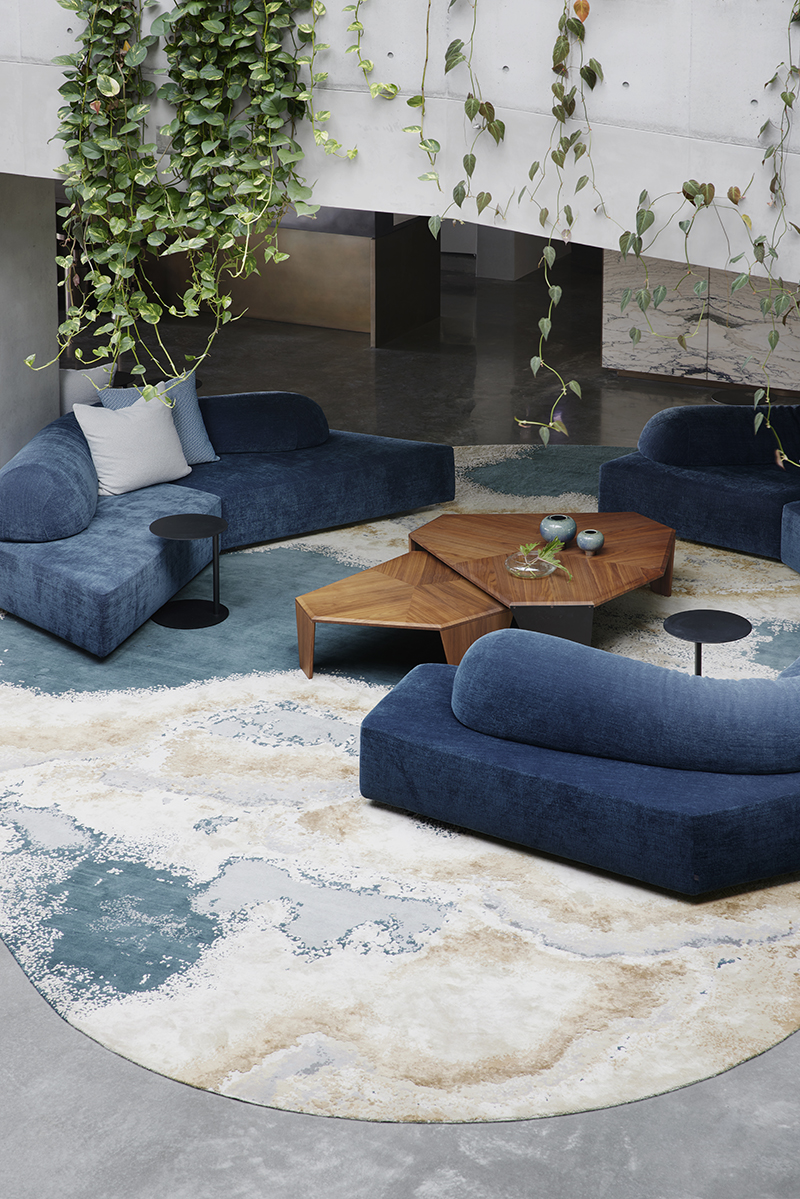 The Master Bedroom was to have a custom built-in bed, and so the beautiful 100 knot Tenero Indigo rug was crafted in a shape to sit around the bed, such that it would nuzzle around the bed base rather than go under it. Tenero is made from Mohair and Cashmere and hand-knotted with a luxurious pile of 18mm. We also made a matching rug for the walk in robe which creates a synergy with the bedroom space and warm luxury underfoot.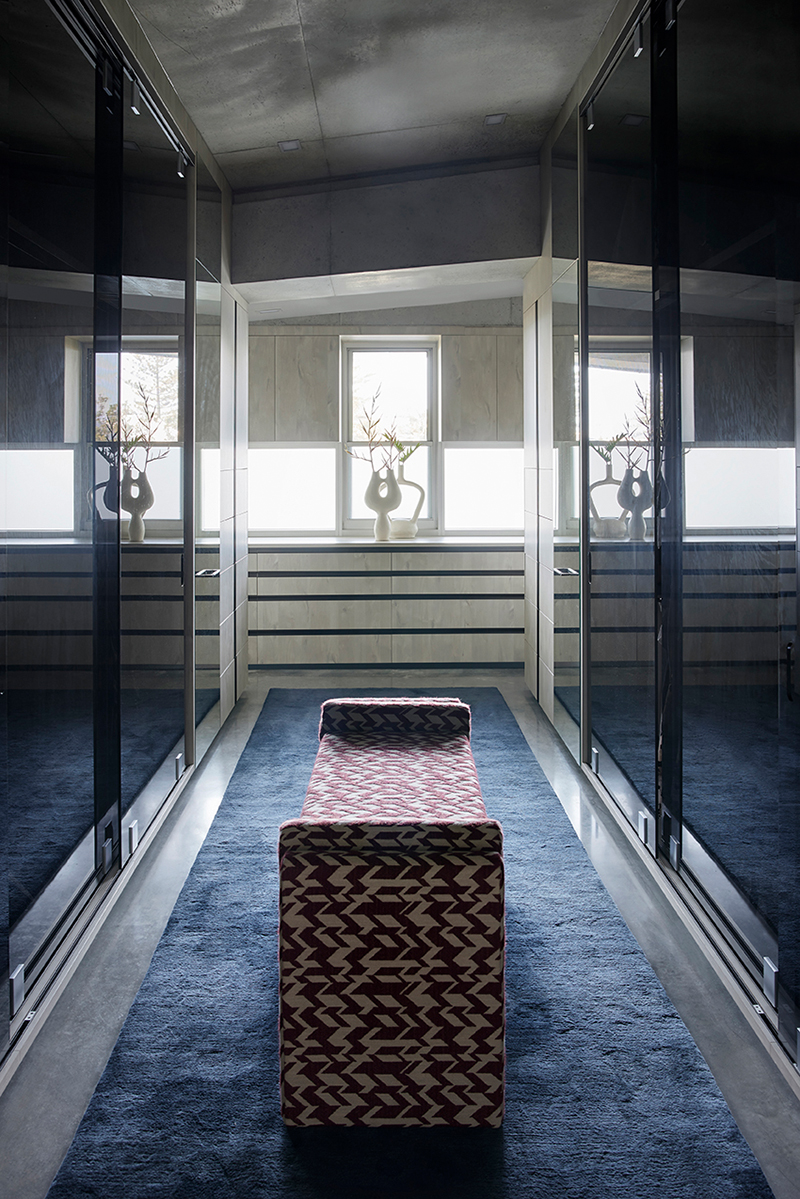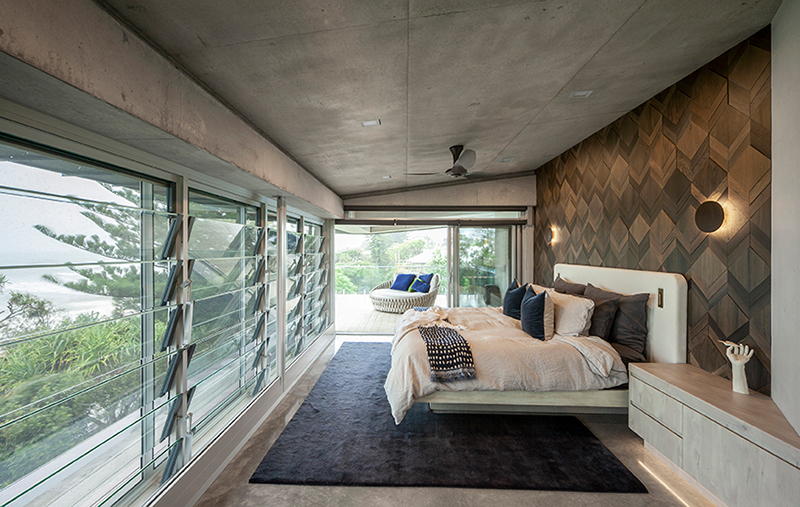 The Sewing Room was to be a magical place of creativity for the client. Warm and bright colours were the theme here so the vibrant Carnival Sunset (a 12/12 hand-knotted Persian rug) was selected and made from 100% Real Silk in a trapezoid shape to reflect the shape of the room.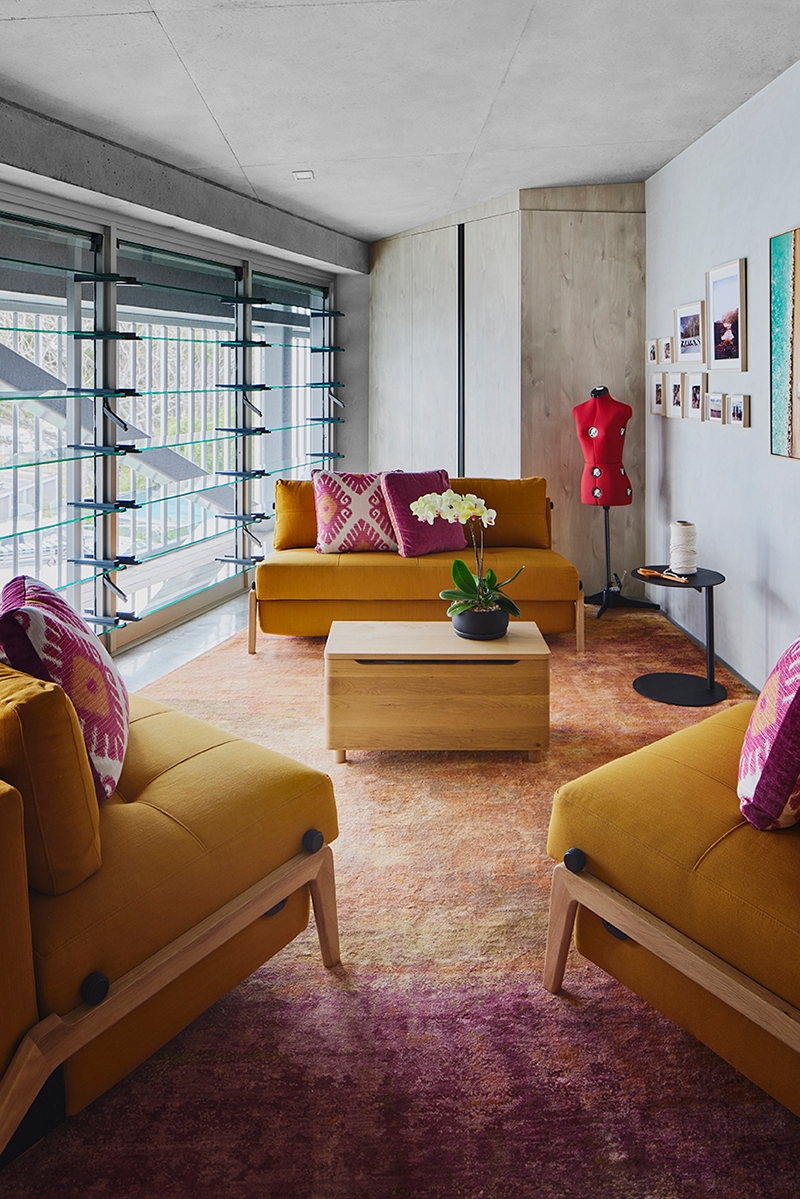 To traverse the width of the Cinema Room, the beautiful Remi Indigo rug was chosen. Made as a 60 knot hand-knotted rug from 100% NZ wool and real silk, the design has a striking diagonal to create a sense of drama in the space and counter balance the perception of width.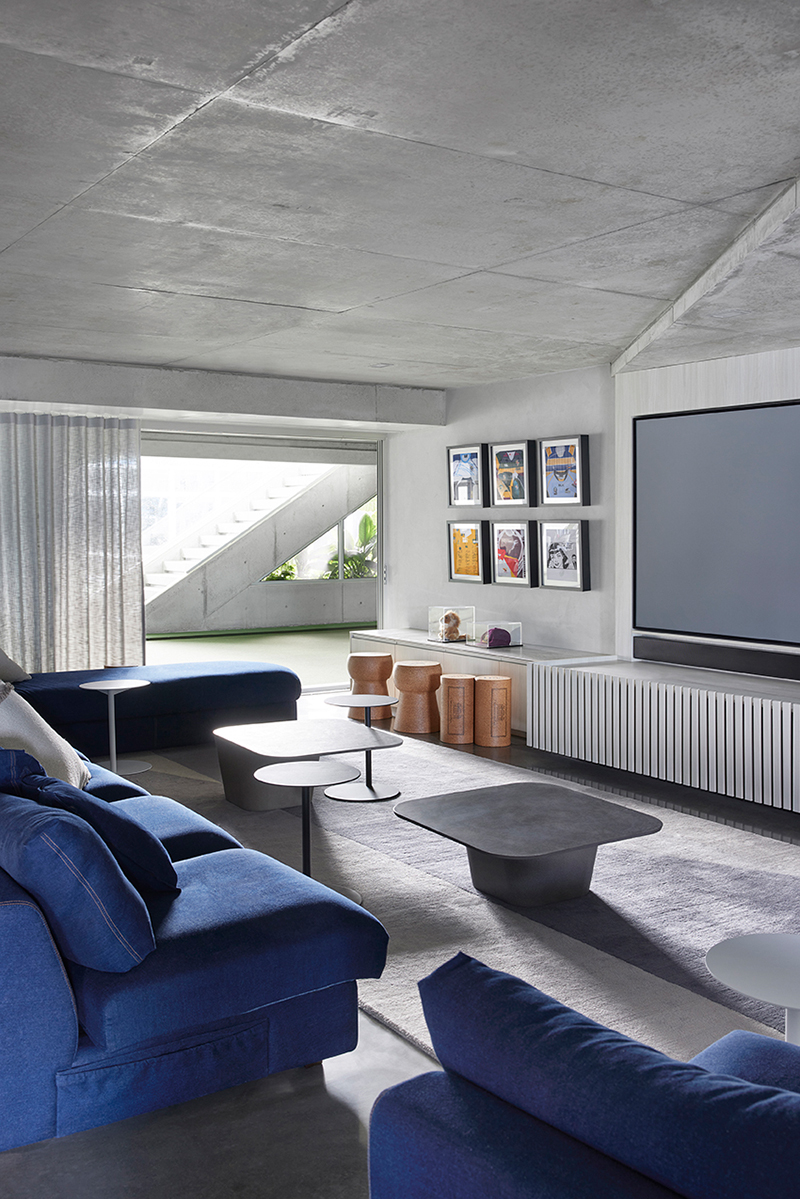 The house features an informal yet luxurious Indoor Living Deck with panoramic views of the beach, complete with a low window fireplace. Again, an unusual irregular pentagon shape was called for so that the entire space had rugs underfoot. The design Alamere Dust was chosen for it's minimal palette and soothing gradations of neutral tones that darken to the rug's edge. Real silk was used as highlights (not viscose) to ensure that the fibres could withstand the humidity and saltiness of the environment. It was made as a 100 knot Tibetan in NZ wool and real silk.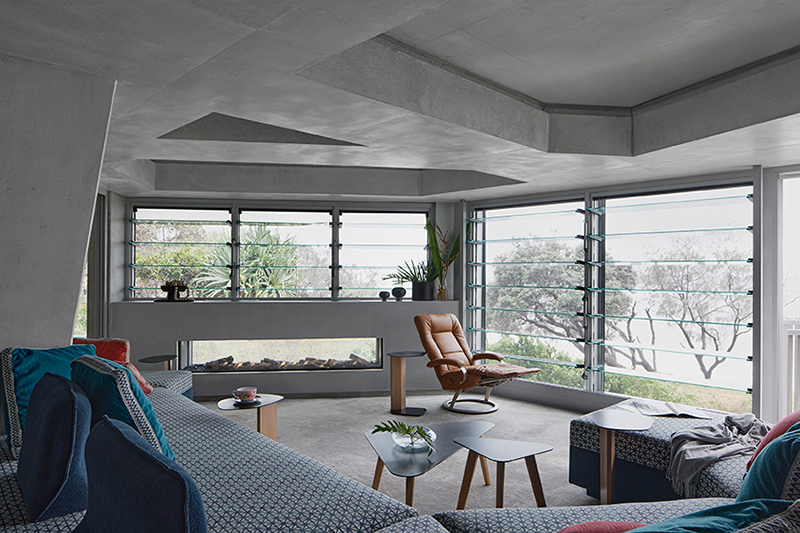 The TV room is an eleven sides shape. The design Minstral Royale was chosen for it's simple elegance and the design's ability to hold interest but also work within the odd multifaceted shape. It was made as a 100 knot Tibetan in NZ wool and real silk.
In the Games Room the design Conway Navy was designed in an oval shape to contain the individual chairs and create an inviting feeling of participation within the space. It was made as a 60 knot Tibetan in NZ wool and real silk.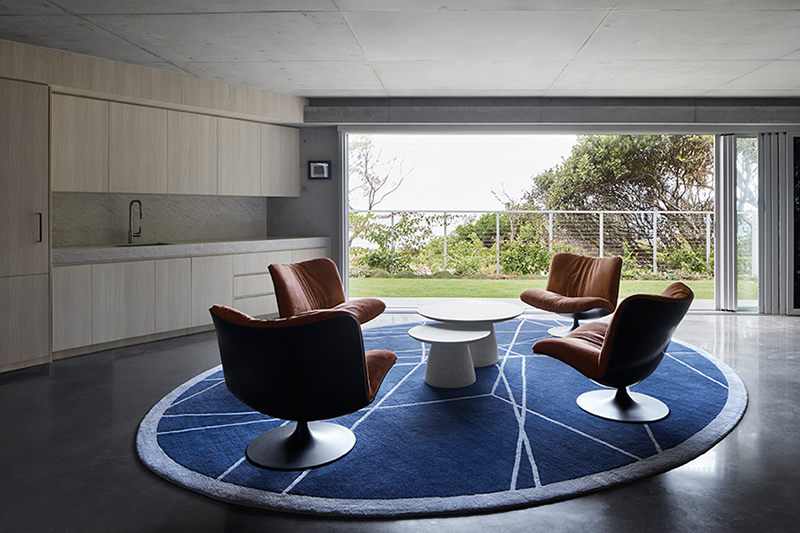 Every custom rug in this home plays its role as a significant design element, helping to refine and reshape this build from a monolithic architectural statement into a unique and warm home beckoning memorable family gatherings and recreational activities.