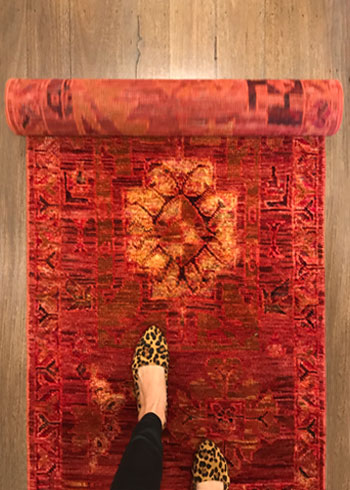 High traffic areas are considered to be areas where there is a high level of foot traffic such as hallways, entry ways or places where people may move or rub their feet on a more regular basis. Our focus is to highlight areas such as dining rooms or living areas for example where people may be sitting, playing or moving around.
This type of wear can put a great deal of pressure on the fibres so it is very important for us to understand how a rug will be used within the space and choose a product accordingly that will withstand wear and tear and extend the longevity of the rug.
We at The Rug Establishment recommend a low pile height of 10mm or less which will assist the rug to be more robust and withstand continual wear over time compared to a rug with a composition of more delicate, softer longer plush fibre.
Yarns consisting of natural fibre such as 100% wool of a reputable quality, are highly recommended due to its strength and durability in high traffic well used areas. Wool fibre due to is natural composition, is easier to clean and maintain compared to other more delicate fibres such as silk.
Another consideration when choosing the appropriate rug for high traffic areas, is that often shoes are worn from outside to inside, bringing in dirt and transferring marks from rubber sole shoes onto the rug. With this in mind, colour can be an important factor when choosing a rug, especially the amount of light colours used within the design. Minimising lighter colours will assist in keeping your rug looking its best ensuring many years of use and enjoyment.