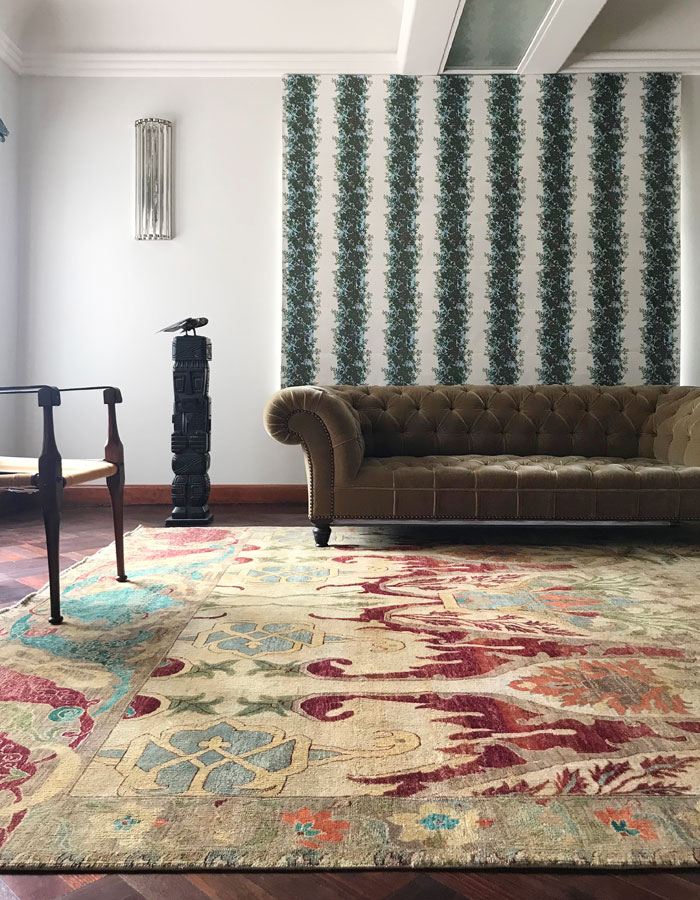 Today rugs are more than just an afterthought. In fact, a lot of Interior Designers build a room around a rug not the other way around. This means they need to choose, colour, size and fibre based on what the room is used for.
Measure the area your rug is going with the furniture in place. This is the most important step! Most of our stock ranges typically come in sizes: 1600mm x 2300mm, 1900mm x 2900mm, 2400mm x 3000mm and 3000mm x 4000mm keeping in mind that the majority of our designs can be custom made.
A rug sets boundaries and defines the conversation area or the look you are trying to achieve in a room. It is important to note that the bigger the rug, the larger it makes the room appear (obviously this varies from room to room). With so many rooms and so many variables in each home or office, we have provided a few tips to think about.
Dining Room - Is your room large enough for guests to sit around the table with the chairs on the rug? What shape is your table? Optimally we recommend and additional 850mm around the table regardless of the shape of your table.
Living Room - Again you need to make a decision about what look you are going for...with minimalism you will find a small rug, with the furniture placed sparsely around it. But for most people are wanting style and comfort, you will be optimally looking for a rug that all your furniture fit on or at least partially.
Bedroom - There are a few variances with bedrooms, using a rug in place of carpet so your bed & side tables will sit on the rug, start the rug from where you step out of bed (about half a metre from the top of the bed) or at the foot of your bed approximately one third of your bed will be on the rug, this is more for style. All are equally ok, you just need to decide the look you are going for.
Hallway - Hall runners protect your floors from wear, scratches and scuff marks as well as provide a sound barrier that protects your feet from cold, hard floors. You can't go wrong with a full-length runner but it should at least cover the majority of the walking area or entry. We also recommend that the rug is placed 200mm from the walls and doors to allow space for the door swing.
View our rug placement guide click HERE to assist with the perfect size rug.
To find your local showroom click HERE.
View The Rug Establishment's range of luxury rugs HERE.