Rugs play a key role in designating and zoning spaces in your home, especially in an open plan home. A small, carefully-placed rug for example carves out a cosy corner in an otherwise nondescript area, such as a breakfast nook or reading corner.
Ideally two rugs in the same open plan space - such a living and dining room - should complement each other. The aim of the game when styling is creating a cohesive look.
Bedrooms
The placement of the rug will be determined by the size of the rug, the size of the bed and the room. Ideally a rectangular shaped rug should be placed with its length along the width of the bed, and under the front two-thirds of the bed. No matter what size your room, you should allow for a minimum of 30 cm of rug to show on each side of the bed.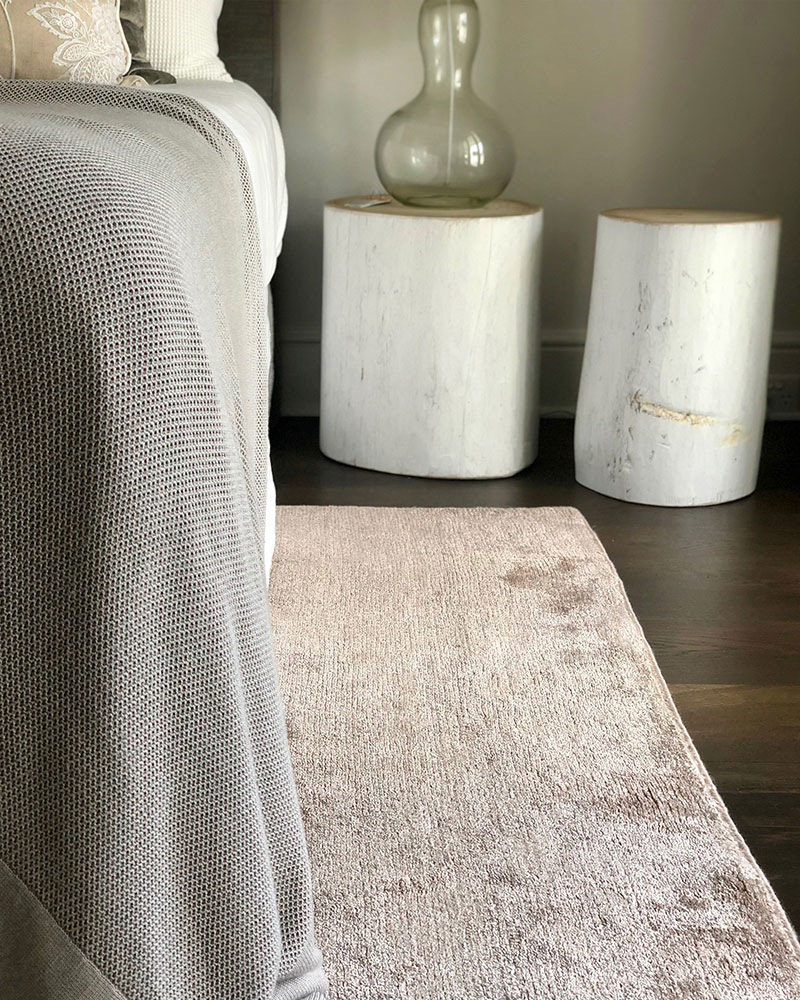 A round rug should be placed in the centre of the bed, with approximately half the rug sitting underneath the bed.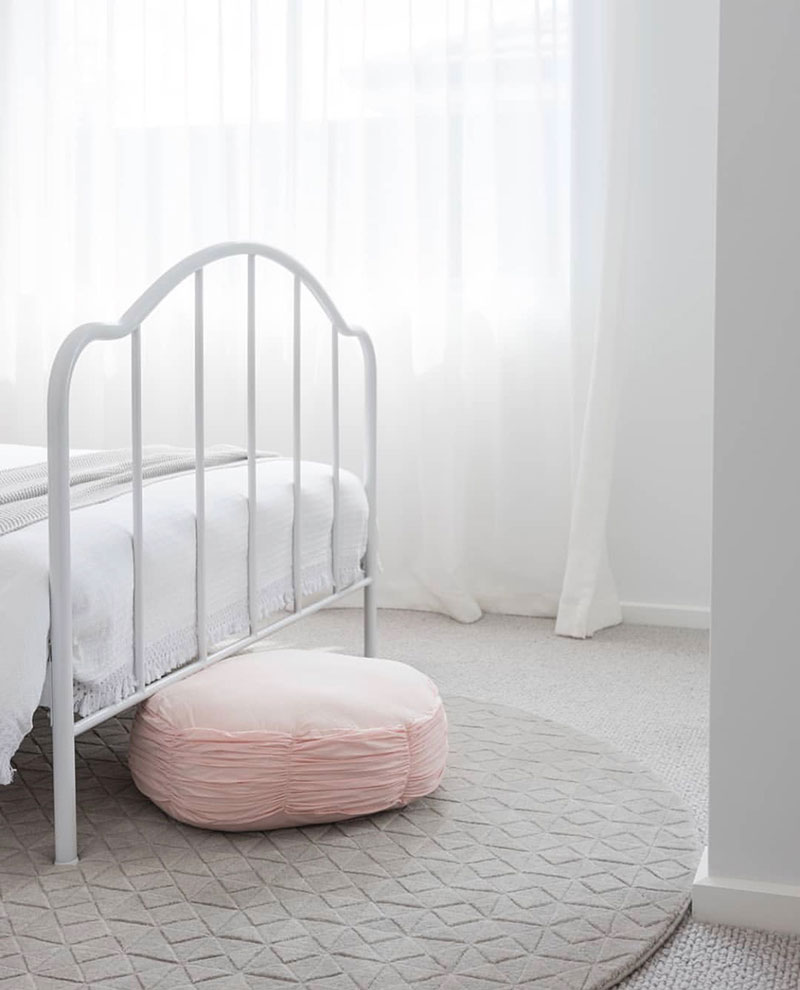 Remember, rooms with carpet can still benefit from the addition of a rug - adding texture and framing the space.
A plush rug with a higher pile height works well in a bedroom, feeling soft and luxurious underfoot
Living Rooms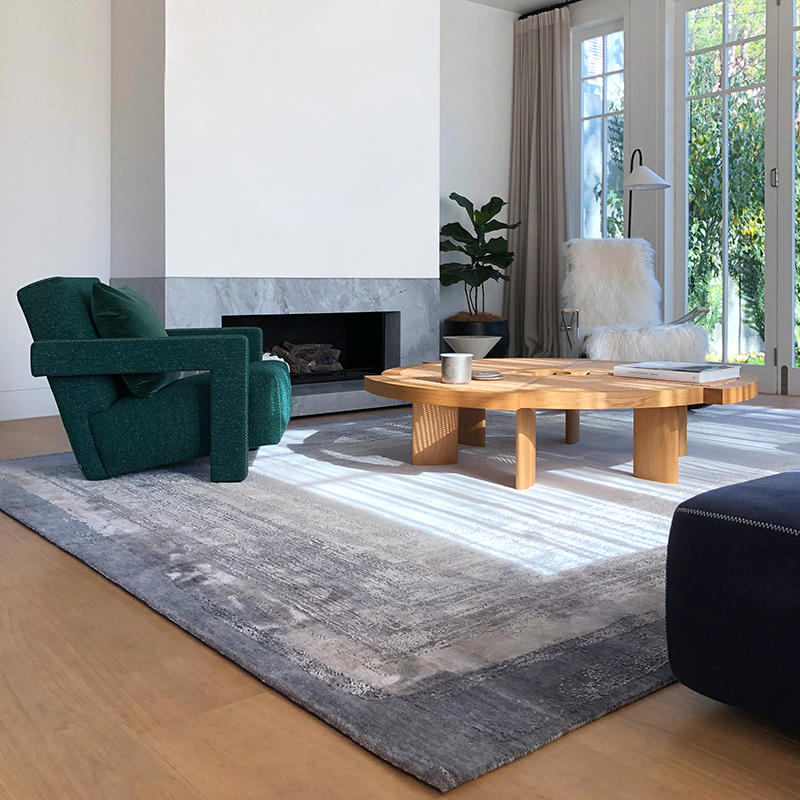 A rug frames and anchors your living space, so the larger the rug the bigger the space will feel. Therefore when choosing the right size - go bigger! Your rug should sit at least half way underneath your sofa, and your armchairs with a minimum 30cm overhang on the sides of the furniture.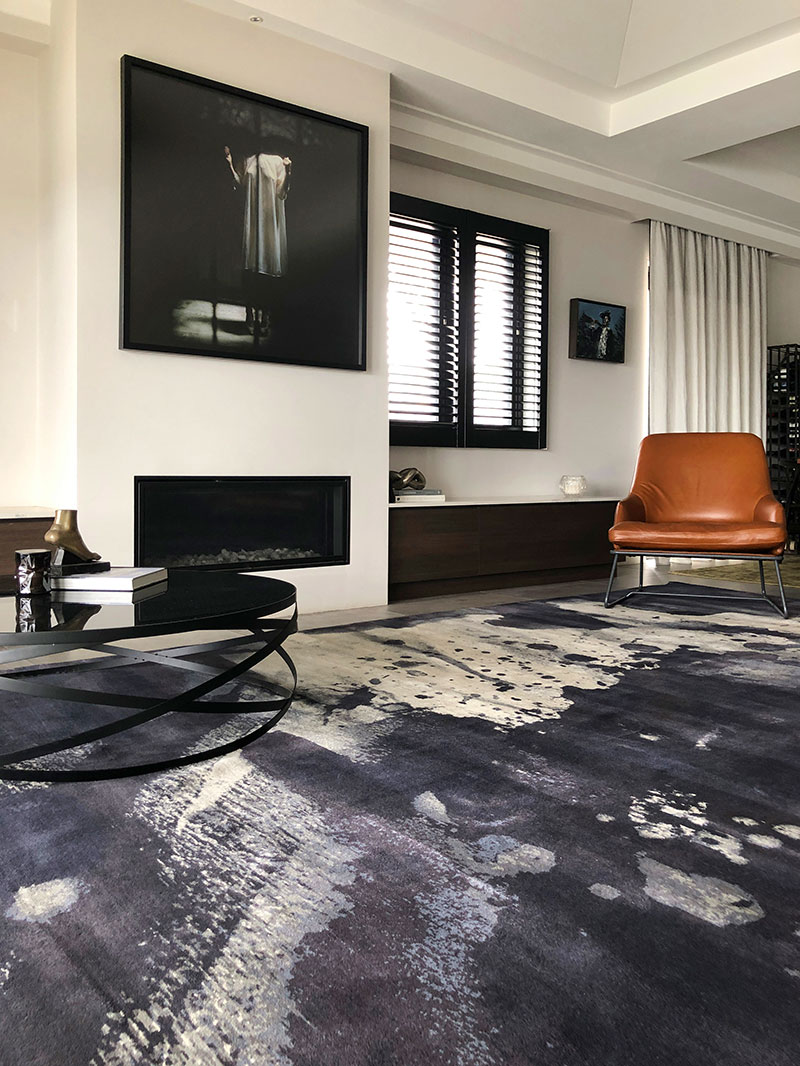 Consider an irregular shape.
Some spaces, especially in a smaller home, are too awkward for a traditional rug. Instead, think 'beyond the rectangle'. We can design a custom rug to be any shape. Organic shapes can really add visual interest and soften angles in a room.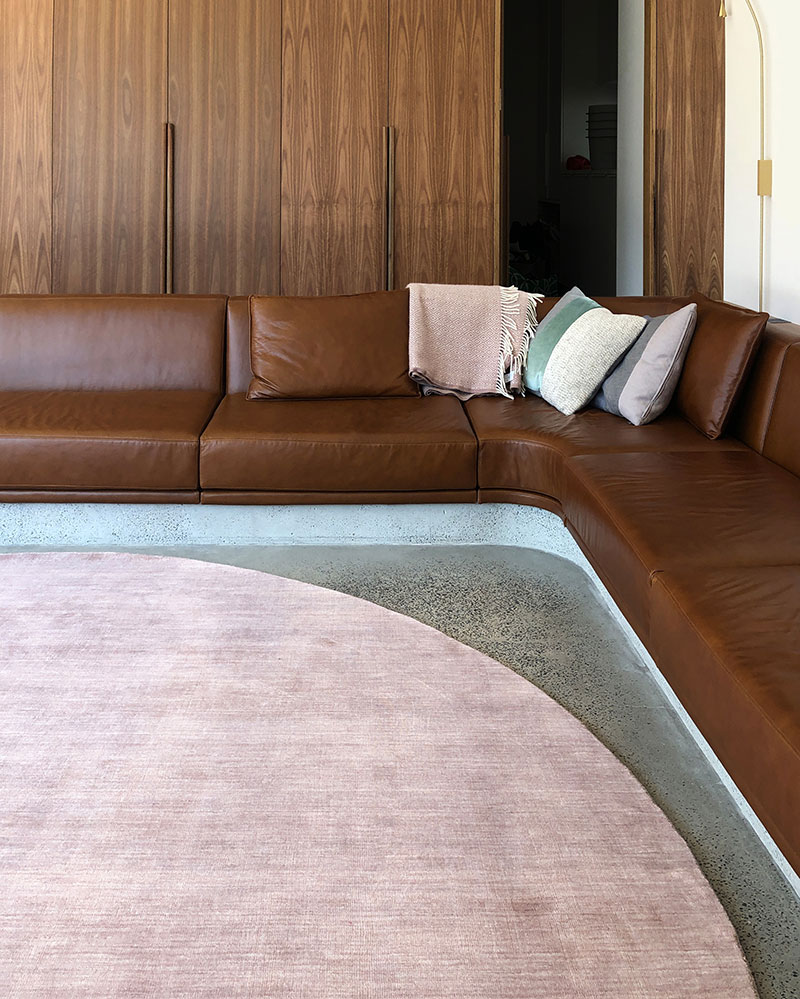 Kitchen and Dining Rugs
Kitchen runners add a warmth to the hard surfaces of a kitchen and are frequently used in styling coastal and Hamptons style kitchens to create that lovely 'lived in' feel to a home.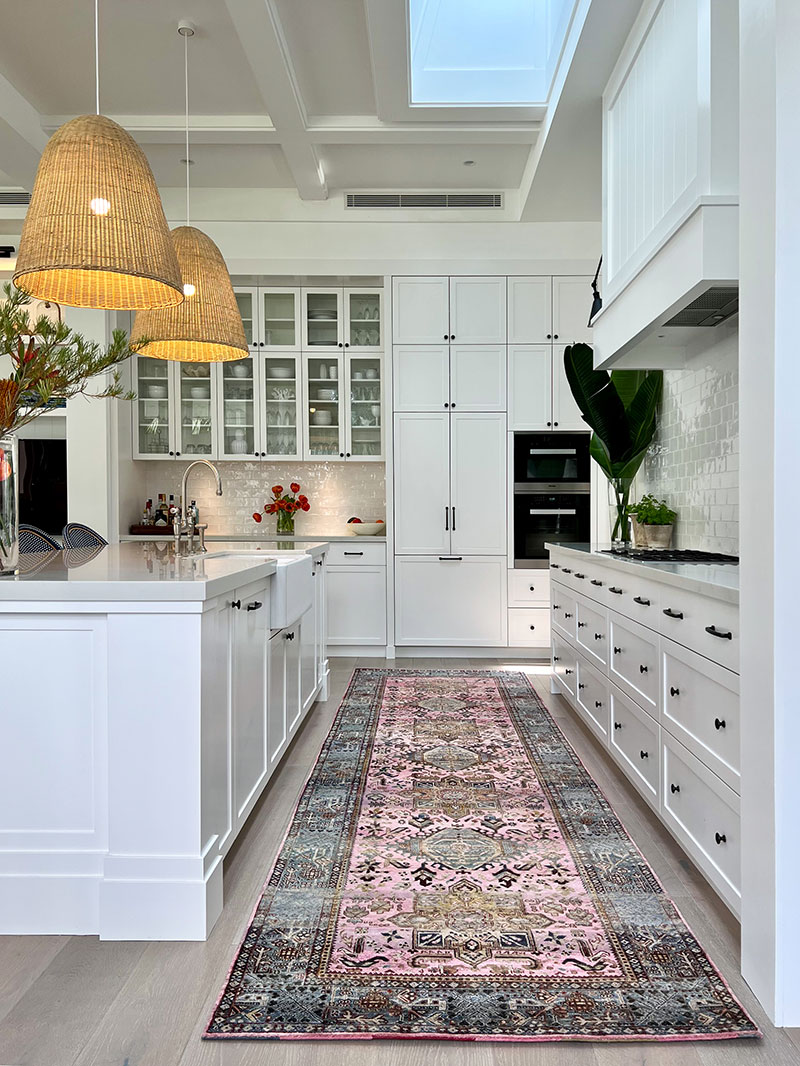 If space allows, your dining table rug should be large enough that the area is anchored and all the furniture is still on the rug when the chairs are pushed out.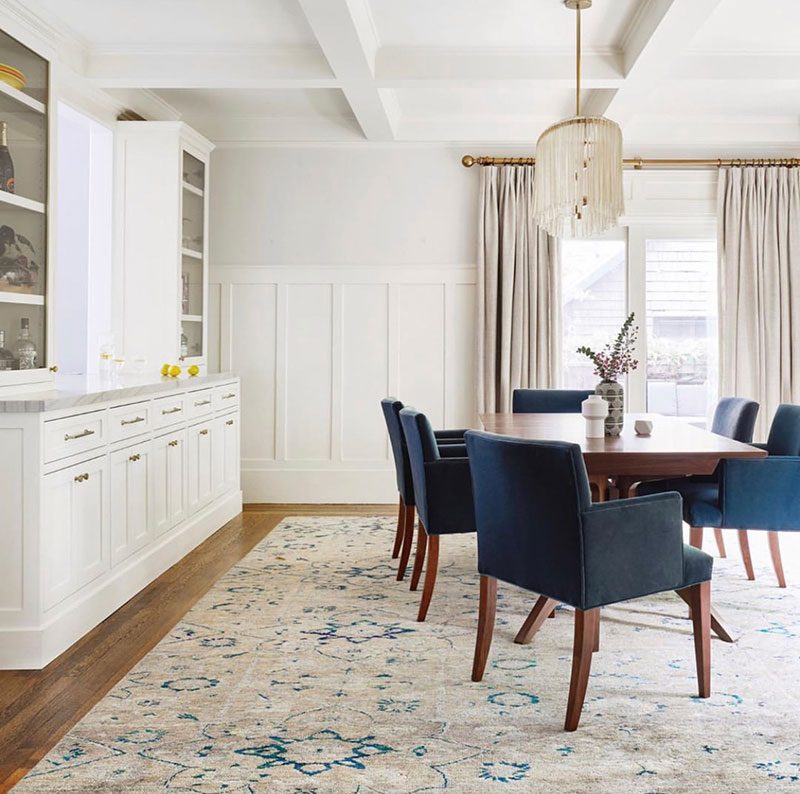 A lower pile rug works well under dining tables or in kitchens as they allow chairs to move and are easier to clean.
Hallway Runners
Hallways are often neglected spaces in homes when it comes to styling. A long rug runner can serve as a guide path to show guests their way around your home, softens an otherwise hard and cold space and sets the tone and ambiance for your home.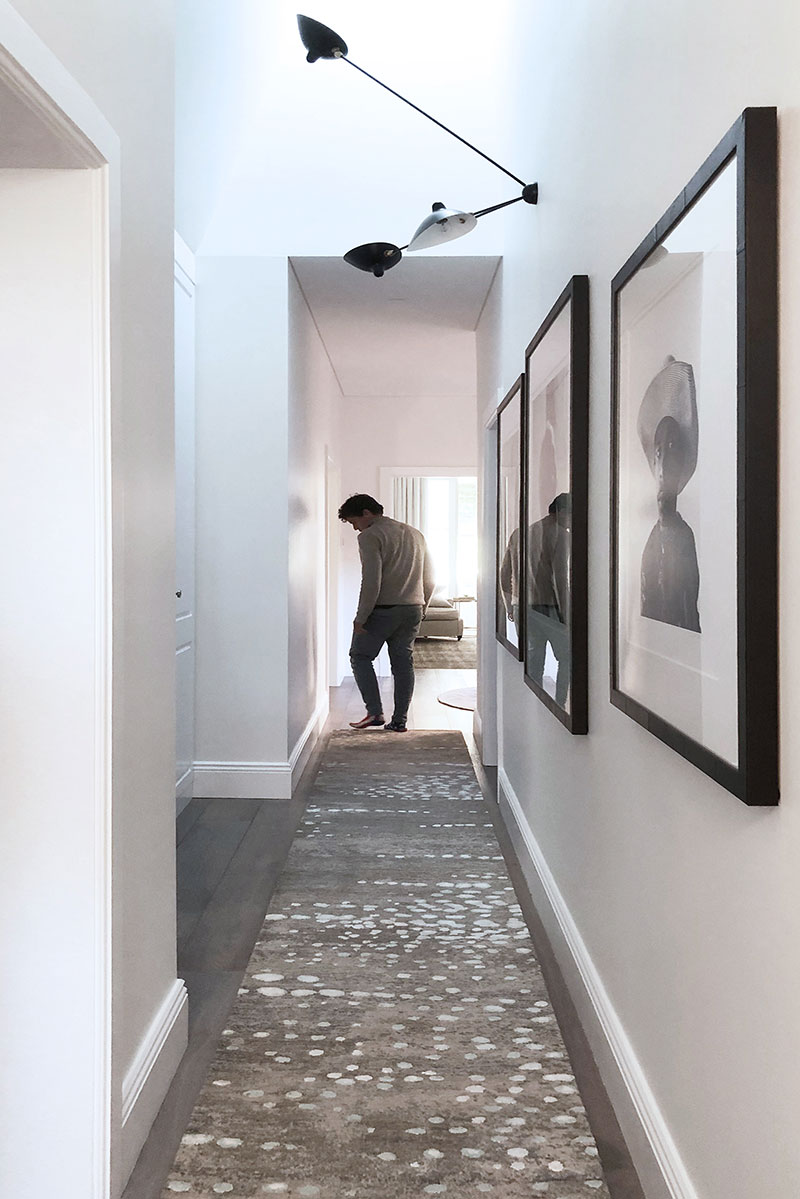 These styling tips and tricks can help set you on the right path to choosing the perfect size and style of rug for your space.